Friday at the apple orchard was a fantastic day!
The weather was pleasant,
Farmer Tom's presentation was funny and smart,
the hay ride was exciting,
and
Tons of pictures are posted toward the end of this blog...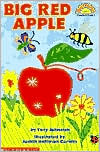 we love our apple books!
and

this silly rhyming book!
Thursday's Morning Challenges~apple themed
Making Applesauce!
Here we are at Thursday afternoon's learning stations:
Apple prints and apple snacks with Mrs.Benson
Ll ABC page (ladybugs) with Noah's mom
and
Life cycle of the apple tree with me!
Thank you to our volunteers! We couldn't do it without you!